Kids Programs
Remember when you learned to ski or ride?  Did your parents have you on snow as soon as you could walk or did you pick it up later in life?  Now with kids of your own, you're looking for the best way to introduce them to the sport you love.  Kids Camp packages allow you to spend the day cruising the mountain or taking a lesson of your own while the kids learn to ski or snowboard in a safe and fun environment.
Kids Camp
Ages 4-12 / 2 Hour Ski or Snowboard Lesson w/ Rental Included / $179.99 + Tax & 7% Muni Fee
Weekdays, Kids Camp lessons are available for first time skiers and snowboarders to First Chair Lift. Weekends and Holidays, all levels of ability are available.
Remember when you learned to ski or ride?  Kids Camp packages allow you to spend the day taking a lesson of your own or spend the day cruising the more difficult terrain, while the kids learn to ski or snowboard in a program designed just for them.  Kids Camp is located in the Discovery Center at the Vernon Base area.
Kids Camp includes a lift ticket, lesson and rental (if necessary) for skiers and snowboarders age 4-12. Your child's lift ticket and rental are valid for the remainder of the day. Check in is located at the Lesson check in tent at TBL schoolyard, located directly across the pedestrian footbridge from Cobblestone Village. Please come dressed and ready to go.
Please note: Kids Camp will be sold online only. Please purchase in advance to ensure availability for the time slots needed. Lessons are 2 hours long and run from 9am-4pm. Rentals are fulfilled through the Red Tail Lodge Rental Shop. Campers will be able to warm up and fuel up in the Discovery Center Building.
CANCELLATION POLICY
Lessons may be rescheduled up to 72 hours prior to the lesson start time to a different day within the same season with no penalty. Only one reschedule permitted per lesson purchased. Cancellations less than 72 hours prior to the start of a lesson are subject to a forfeiture of any funds paid. All Mountain Creek Seasonal lesson programs are non-refundable.

Twisted Kids – Terrain Park Sessions
Twisted Kids is back! Join us every Sunday for 5-FREE coached terrain park sessions for skiers and snowboarders ages 6 and up. These sessions run from January 15th – February 26th. On February 26th, there will be one final event to celebrate the progression in the park where parents can check out their new bag of tricks.
Who? Skiers & Snowboarders Ages 6 & Up
What? Terrain Park Session with Coaches
When? Every Sunday starting January 15th; Registration in the DC Building next to Ski Patrol: 12-1PM; Session runs from 1-3PM
Where? Registration in DC Building; Sessions will rotate between rail hike park adjacent to the Magic Carpet and Twist.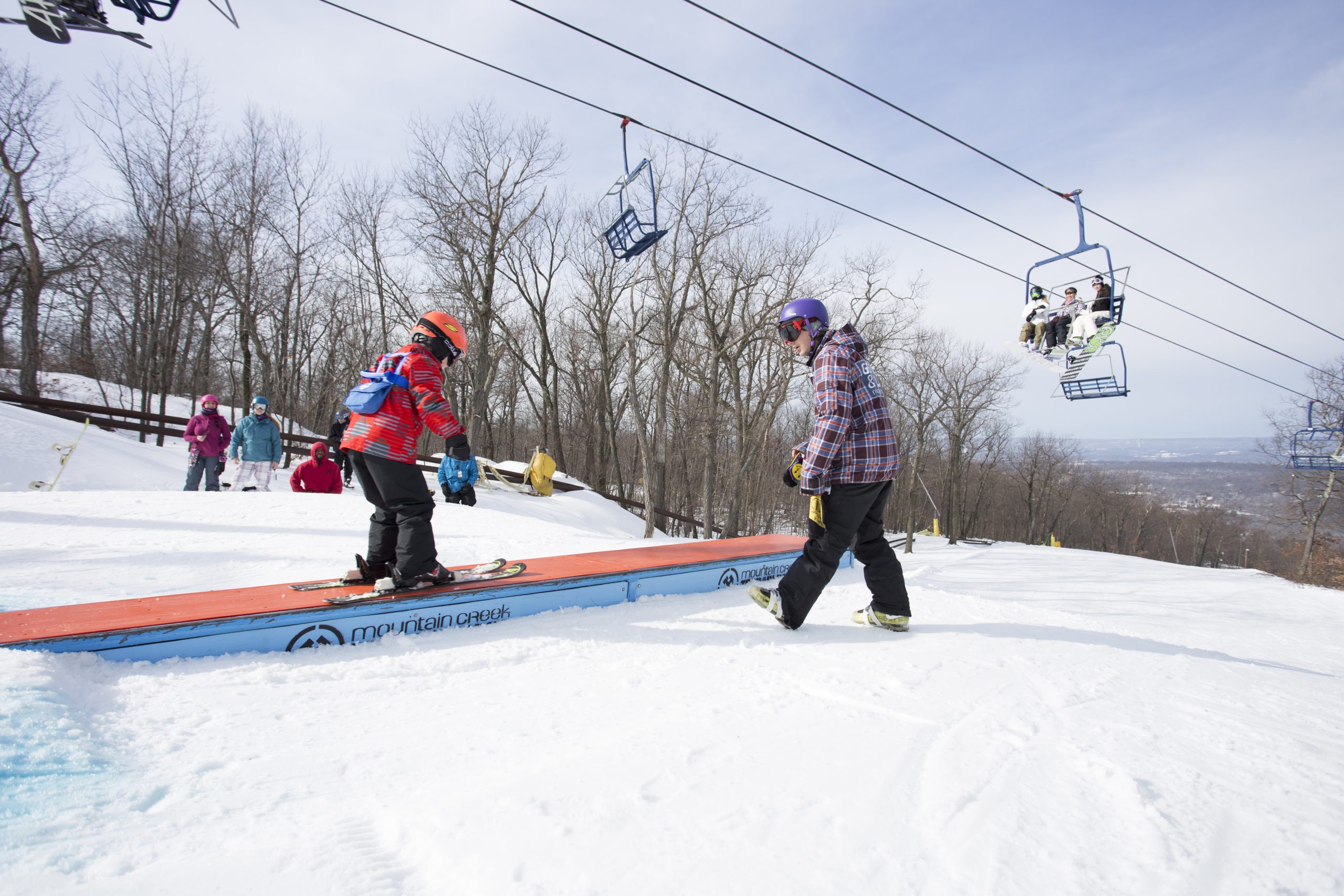 Mountain Explorers Program
Ages 7-15 / Pricing includes 6 weeks of lessons / $799.99 +tax & 7% Muni Fee
Registration Opening Soon
The Mountain Explorers Program is a 6-week all-inclusive program for children ages 7-15. This program is for kids looking to ski or ride with others of the same ability while progressing their abilities in a fun environment. Saturday's group meets each Saturday from January 7th – February 11th. Sunday's group meets every Sunday from January 8th – February 12th.
This program is designed for students from "never-ever" through Advanced. Each week the students will ski or ride with their group for 3 hours. Complimentary lift tickets and rental equipment is included if needed.
Program meets on Saturdays & Sundays: 8am-12pm (On snow 8:30am-11:30am) Complimentary lift access and rental equipment available if needed.
Designed for students from "never-ever" through advanced skiing or snowboarding.
Ages 7 to 15 only
Students grouped by age and ability. Children may switch groups as they progress
*NEW* Locker room for students to gear up and store equipment during the program
Program is non-refundable and non-transferrable