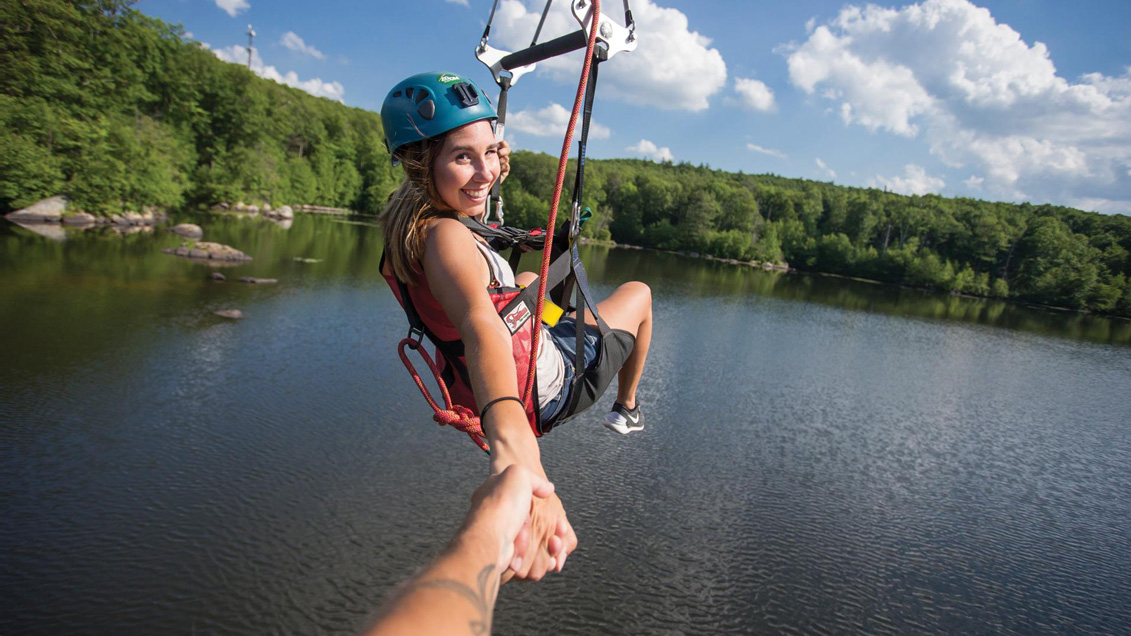 Waterpark Safety & Policies
As a guest, you are responsible for your own safety. Instructional signage is posted at each attraction. Please listen to and obey all lifeguard instructions. Please read and follow all posted safety information. Inappropriate or unsafe behavior will not be tolerated and is subject to immediate removal from the Park without refund
Many attractions at Mountain Creek Waterpark are dynamic and thrilling and may include features such as high speeds, steep drops, sharp turns, and other forces.  There are inherent risks in participating in any amusement attraction.  If you choose to participate, you accept these risks.
Attraction height and weight restrictions, as well as child life vest requirements apply on certain attractions. Running and horseplay are not permitted.
It is strongly recommended that all weak or non-swimmers wear a Coast Guard approved life vest.
Floaties, water rings, and other floatation devices are not permitted. Only Park issued rafts are permitted. Water-wings, masks, snorkels, and other SCUBA equipment are not permitted.
Supervise children at all times.
Code of Conduct
All Guests must pay price of admission or have current season pass.
Children under the age of 12 must be accompanied and supervised by a person age 18 or older.
Admission to the facility may be denied for any of the following reasons: suspicion that the guest is under the influence of alcohol or drugs, evidence of open wounds, guest not wearing proper swim attire.
Conservative swimwear only. No thongs or transparent clothing. Only regular swim attire allowed on attractions: no jean shorts, sweat pants, or clothing with beads or buckles. No oversized or baggy clothing that cannot remain at or above the waistline without a belt or other support.
Displayed tattoos must be in good taste and not offensive to a family environment (as determined by park management). Guests may not display anything that contains obscene, foul, profane, illegal or unacceptable language, pictures, symbols, phrases, etc.
Abusive or profane language to guests or Mountain Creek Waterpark staff will not be tolerated. You will be asked to leave WITHOUT A REFUND if you use abusive or profane language.
Loitering is not permitted in or around Mountain Creek Waterpark, including the parking lot.
Glass is not permitted inside Mountain Creek Waterpark.
Firearms and sharp objects are not permitted inside Mountain Creek Waterpark.
No running, diving, or excessive horseplay is allowed inside Mountain Creek Waterpark.
NO LINE JUMPING! Line Jumping is defined as cutting in front of other guests or attempting same point re-entry after having left the line for any reason including using a restroom or retrieving food or drink. Make all stops prior to entering a line queue. Any guest, who line jumps, may be ejected from the Park with NO REFUND GIVEN!
Image and Video Capture for the intent of public audience use/distribution must be authorized and escorted by a Mountain Creek Waterpark Representative. Equipment use is acceptable only when it is safe and unobtrusive to other guests. Amount & size of equipment should be minimized; tripods are strongly discouraged. Use of capture devices is strictly prohibited on rides and in restrooms.
Please respect our effort to keep Mountain Creek Waterpark a clean and aesthetic facility by throwing away your trash.
Animals are not permitted inside Mountain Creek Waterpark unless used for medical reasons.
All guests must follow the rules and regulations listed above and follow the instructions of the Mountain Creek Waterpark employees.
Photo Disclaimer
By entering the park, you authorize Mountain Creek Waterpark to record and reproduce your image and/or performance for the use in the company promotional materials including commercials, travel videos, brochures and any other related materials. Additionally, you agree that Mountain Creek Waterpark shall have the right to distribute the promotional materials to any and all television, video outlets, publishers and/or printers in the universe, and that Mountain Creek Waterpark shall be the owner of such materials.   In the event any part of this agreement is deemed unenforceable, the remainder shall be an enforceable agreement/contract between the parties.
First Aid
Any person needing first attention should alert a Team Member. Our Team Member will then have a First Aid Member come to you. Guests may also visit In-Park Guest Services if in need of a First Aid Member. Restrictions and special warnings are located at the entrance of every ride. For safety reasons, you may be asked to leave any loose articles at the loading/unloading area of the ride.
VIRGINIA GRAEME BAKER POOL AND SPA SAFETY ACT – On December 19th 2008 the Virginia Graeme Baker Pool and Spa Safety Act went into effect. This new law requires VGB Compliant Pool Drain Grates. We are VGB Compliant but please note in some applications these grates have a raised profile off the floor as mandated by the Law. 
Warning: Raised Grate – All of our raised grates have a red circle highlighting their location. They are designed to be stepped on but in shallow water situations they may pose a tripping hazard.
Weather Policy
KEEP YOUR WRISTBAND! We will close our attractions when unsafe conditions are present (as determined by Management in conjunction with our weather service). We will re-open when weather conditions in our immediate area are safe to do so (we cannot guarantee ideal weather conditions). In the event we cannot re-open our attractions within 75 minutes, you'll receive a full or twilight ticket for a return visit (your wristband must be intact and on your wrist to be valid for a raincheck ). No refunds are issued regardless of time spent in the park.
Safety & Bag Check
Mountain Creek Waterpark is concerned about your safety! To ensure the highest level of safety and satisfaction for all of our guests, Mountain Creek Waterpark inspects all bags and items brought into the waterpark. No weapons, knives or sharp objects are allowed on Mountain Creek Waterpark property. Mountain Creek Waterpark is not responsible for lost or stolen articles.
Ride Height Restrictions
For Guests 48" and Over – Rogue River, The Gauley, Thunder Falls and Thunder Run
For Over 54"- Canyon Cliffs, Bombs Away
For Guests 54" & Under – Spraygrounds
For Guests 48" and Under – Fishing Village and Lost Island
For Guests 42" – 48" – The Hook
For Guests 42" and Over – River Runner
For Guests 48" and Over or 42"-48" With Adult – Colorado